DC's Justice League Dark Launches on Kickstarter with New Expansions, Exclusives, and More
Justice League Dark is coming to Cryptozoic Entertainment's DC Deck-Building Game, and the big Kickstarter campaign is now live. Cryptozoic didn't just bring Justice League Dark to the party though, as fans can also get a new Shazam! Vs Black Adam Rivals set, two Rebirth One-Shot Packs, a Legion of Doom Expansion Pack, and a JSA Crossover Crisis Pack as part of the campaign. The Justice League Dark box will bring 8 playable characters, a new seal cards mechanic, and a new transform keyword, which will also cards to transform into other cards. You can find all of the details on the campaign right here.
In the Justice League Dark set you'll be attempting to seal the threats of magical Super-Villains and transform your cards into more powerful forms, and you'll do this through Sealing cards and Transforming. Sealing cards will add to your score at the end of the game, and some cards have special Seal bonuses. Meanwhile, some cards will have Transform requirements, which will net you other cards and bonuses once unlocked.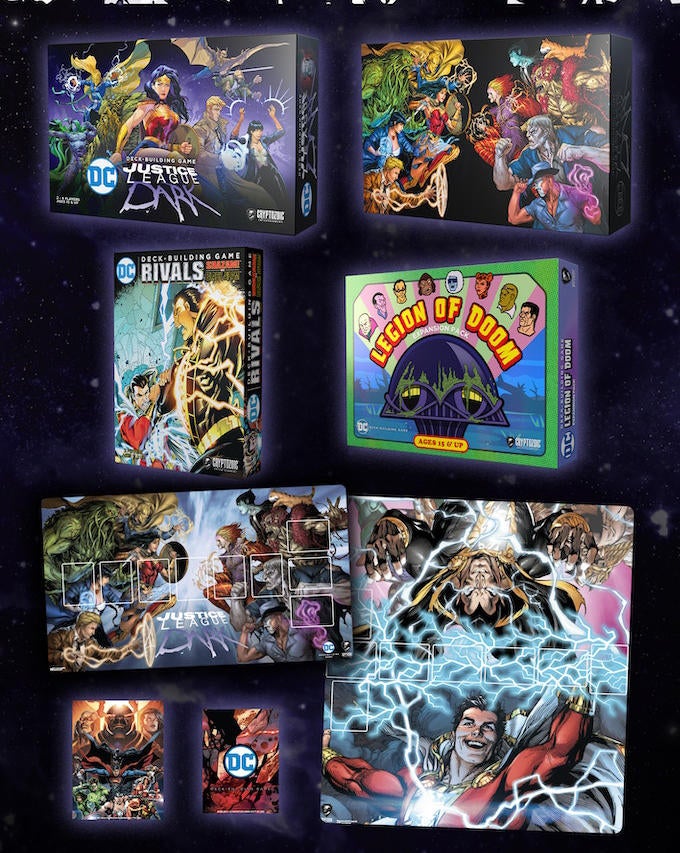 The Shazam! Vs. Black Adam Rivals set has players taking on the role of Shazam and Black Adam, and your goal is to defeat your opponent three times. Each time a character is defeated, they gain new abilities and become more difficult to beat, and Confrontation, Block, and Weakness Cards also help keep things lively.
Then there's the Legion of Doom Expansion, which brings in a classic Super Friends flavor to the villains. There are 13 villains as part of the set, and they can be combined with any of the villains from the other DC Deck-Building Games.
One of the most welcome surprises are the Rebirth One-Shots, which bring the first expansions to the Rebirth cooperative gameplay standalone game. There are two One-Shot packs, including Cry For Justice and Time Heist. Cry For Justice features Green Arrow and Black Canary and adds 6 signature cards and 9 standard cards. Time Heist then adds The Atom and Vixen, as well as standard and signature cards just like Cry For Justice.
The final part of the campaign is Crossover Crisis 1, an expansion that adds JSA Characters, impossible Mode super-villains, and Crisis Cards. There's also a new Golden Age Crisis mode, which activates additional challengers as more Super-Villains are defeated.
There are a few Kickstarter Exclusives, including a special Exclusive Raymond Gay cover and a Rivals Shazam! Vs Black Adam playmat. The Street Goals are also plentiful, and so far the Justice League Dark set has unlocked new Promo cards, a new expansion, foil on the box, a Kickstarter Oversized Character, a Kickstarter Nemesis card, and more. There's also been a new card unlocked for Rivals, and the next stretch goal has foil being added to the Rivals box. You can find the full campaign for Justice League Dark right here.
Are you excited for the Justice League Dark DC Deck-Building Game? Let us know in the comments or as always you can talk all things gaming and DC with me on Twitter @MattAguilarCB!
0
comments